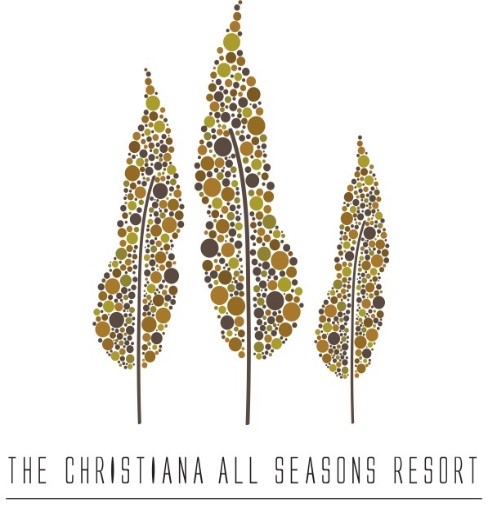 Christiana All Seasons Resort
If you're looking for a serene and tranquil getaway in South Africa, the Christiana All Seasons Resort is the perfect destination. Nestled just off the N12 National road enroute from Johannesburg to Cape Town, this resort is located adjacent to the Vaal River, which originates from the Drakensberg. 
The resort offers a range of unique offerings for both local and international guests, including comfortable and spacious accommodations, a variety of dining options, and plenty of opportunities for outdoor activities such as hiking, fishing, and boating.
Whether you're seeking a romantic weekend escape, a family vacation, or a corporate retreat, the Christiana All Seasons Resort has everything you need to make your stay a memorable one.
So why wait? Book your stay today and experience the beauty and tranquility of this idyllic South African resort.

Swimming Pools
Two beautiful adult pools accompanied by a kiddie's splash pool, kiddies play area overlooking the beautiful landscape overlooking the pool area. The area is perfect for garden wedding setting, wedding ceremonies and just relaxing for the day.
Retail Outlet
Available during festive seasons which stocks, wood, charcoal, ice, beverages, sweets, fast foods and emergency supplies.

Game Reserve with Tented Camps
Adjacent to the Vaal River with the following animals for viewing ,hunting, culling or self-game drives ( Zebra, Springbuck, Black Wilderbeest, Khudu, Gemsbuck,Red, Hartebeest, Impala, Blesbuck,Ostrich, Waterbuck, Giraffe, Steenbok and warthogs).
Private landing trip in the game reserve.
Vaal Tented escape bush escape perfect for school camps, star gazing, private functions, poetry and just to escape from the daily hustle and bustle of everyday life.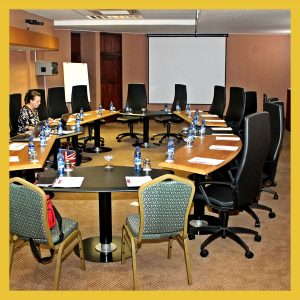 3 Conference and Function Rooms
Khudu accommodates a capacity 18

Giraffe accommodates a capacity of 75

Rhino accommodates a capacity 180

Two board rooms which fits the capacity of maximum 20.
World class theatre with stage great for weddings, school concerts, live theatre performance or conferences.
Choose from our many different luxury Accommodation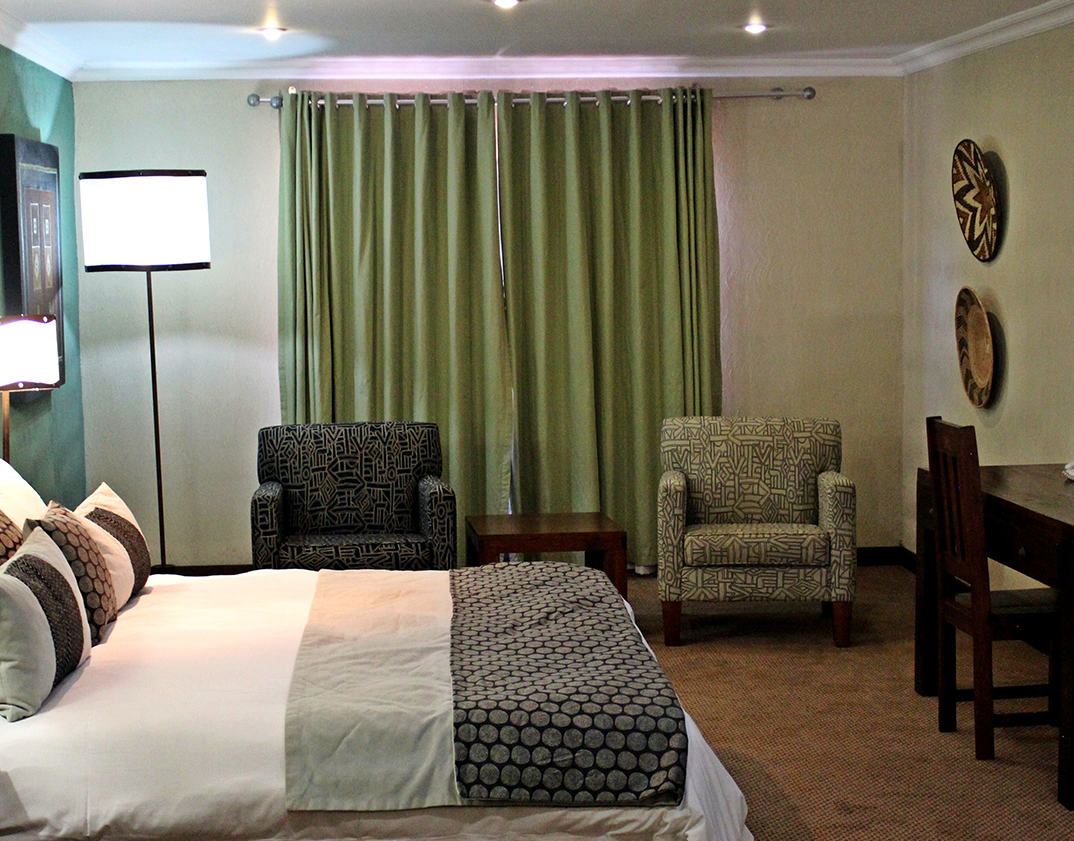 Standard Rooms
ZAR1010
---
Includes Bed and Breakfast.
In-room safe
Desk
Soundproofing
Free cribs/infant beds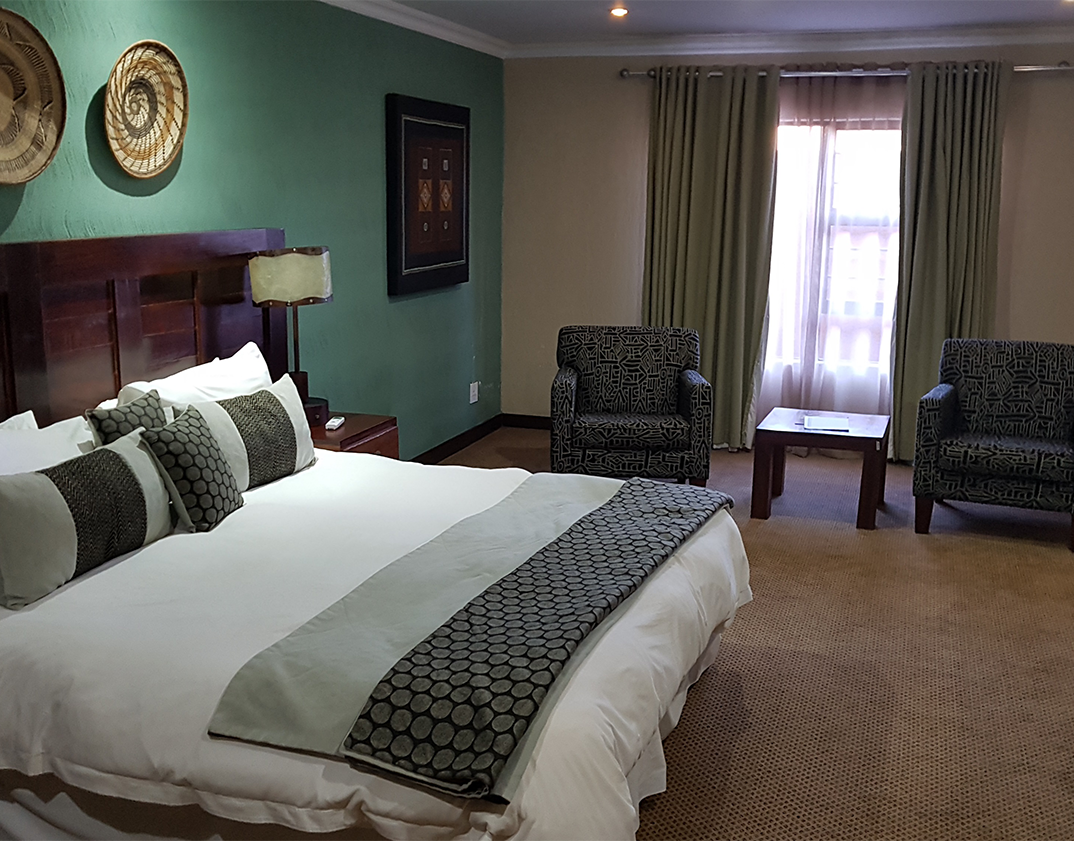 Executive Rooms
ZAR1490
---
Includes Bed and Breakfast
In-room safe
Desk
Soundproofing
Free cribs/infant beds
32-inch flat-screen TV with satellite channels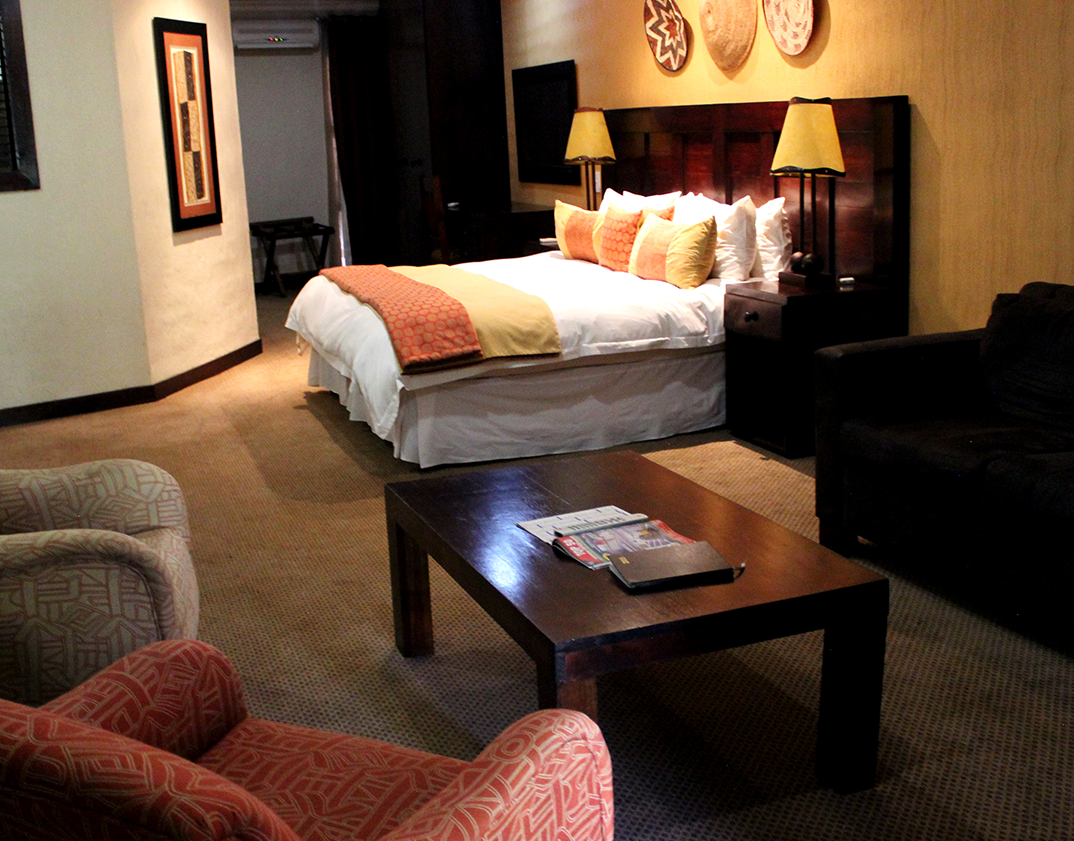 Family Room
ZAR1455
---
Includes Bed and Breakfast
Living area
32-inch flat-screen TV with satellite channels
In-room safe
Desk
Soundproofing
Free cribs/infant beds